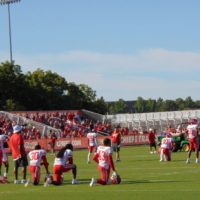 By BRENT MARTIN
St. Joseph Post
St. Joseph tourism, already mired in a very tough year,
absorbed a big blow when the Kansas City Chiefs made it official that the team
wasn't holding training camp in St. Joseph this year.
The NFL decreed all teams must hold camp at their own
facilities due to COVID-19. NFL officials turned down the Chiefs' request for a waiver so the team could continue to hold its training camp at Missouri Western State University.
Executive Director Marci Bennett with the St. Joseph
Convention and Visitors Bureau says the cancellation of training camp this year
is disappointing.
"A huge disappointment, especially coming off the year that
they had last year. I think everybody was anticipating even larger crowds this
year," Bennett tells St. Joseph Post. "It is very disappointing, but somewhat
understandable."
Bennett says tourism virtually vanished for two months during the
shelter-in-place coronavirus restrictions and is only now beginning to emerge. Though
Bennett says people are tentative as they begin to resume travel.
"People are nervous," Bennett says. "They want to go somewhere
that they're comfortable with, maybe somewhere that they've been before and
just didn't have a chance to do everything and some place that's safe and we
can be all those things."
After all that has gone on, tourism is starting to make a
comeback, according to Bennett.
"Well, there were none and now there are some visitors," she
says with a laugh.
Bennett says the coronavirus pandemic has greatly altered the
St. Joseph tourism advertising campaign, which now focuses on those within 200
miles of the city.
"Where they can go for a day, get out of the house, do
something fun, learn something new, and then go back to the safety of their
home."
Bennett says the loss of the Kansas City Chiefs training camp
was a big blow, but she has high hopes the crowds will return with the Chiefs
next year when the NFL lifts its ban on away training camps. The training camp brought record crowds to Missouri Western last year.