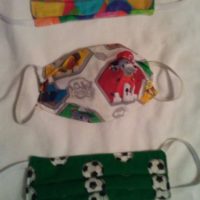 by Sarah Thomack
St. Joseph Post
A local group providing summer meals to kids in need is also seeking donations of back-to-school items, including masks.
Sheila Gilbert and her husband Kenzie started the non-profit group Food for Kids in St. Joseph over a decade ago. They now serve 150 lunches a day Monday through Friday while school is out for the summer.
Gilbert says, this year, they're aiming to collect 1,500 child-sized masks.
"Anyone who's interested in purchasing, sewing… children need masks, it's a great demand right now," Gilbert says. "The masks that they have are too big, too loose, they get to fumbling with them and it doesn't work. We just want them to be healthy and safe."
Food For Kids also provides socks and underwear each year for kids in need heading back to school.
"Salvation Army gives out school supplies… AFL-CIO, they give the children tennis shoes and we give the kids underwear," Gilbert says. "It's very important that our children have clean underwear and people forget about that and that is a desperate need."
Gilbert says they will accept donations of the items or money to go toward purchasing the items. For more information, call (816) 364-5809 or go to stjoefoodforkids.com.