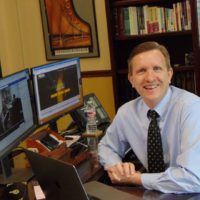 By BRENT MARTIN
St. Joseph Post
Missouri
Western State University President Matt Wilson is leaving the university for
what he calls his "dream job."
"I will be
resigning to take a position with my alma mater," Wilson tells host Barry Birr
on the KFEQ Hotline he is leaving St. Joseph to become the next dean of Temple
University Japan.
"Over the
past several months Temple has been making overtures to me and so we decided
that we were going to step through that open door," Wilson says. "We have
family in Japan and it was just a great opportunity for me to get back to my alma
mater."
Wilson hasn't
been with Missouri Western long. He became the 5th president of
Missouri Western on July 1st of last year.
Wilson says
he turned down Temple when first approached about the job. He says it was
attractive, but he felt committed to Missouri Western. Wilson earned his Juris
Doctor degree there and worked on the Tokyo campus.
Temple University Japan, founded in 1982, is the oldest and
largest foreign university in Japan. It serves more than 1,300 undergraduate
students from approximately 60 countries, and a total student population of
approximately 3,000.
Though Wilson insists it's the lure of the job that motivates him,
he acknowledges harsh criticism arising from his push to drastically cut the
Missouri Western budget by eliminating majors played a role as well. Wilson
succeeded in pushing through $6 million in cuts to the annual budget,
convincing the Board of Governors the future of the St. Joseph campus depended
on righting its financial ship.
"There has
been quite a bit of discussion in the community as well and so for some I've
become a lightning rod to some degree," Wilson says. "There's consideration
there. I have always been in this business for the students and that's where
the focus needs to be and so the question becomes, okay, is that getting lost
in the rancor that we're seeing in the community?"
Majors
at Missouri Western will be dropped affecting 322 students and 61 faculty
positions will be eliminated; 20 tenured and 31 non-tenured. The cuts will be
phased-in over a three-year period. They are intended to close an annual budget
gap of $2-to-3 million in Missouri Western's $56 million annual budget by
eliminating majors which graduate 10 or fewer students each year.
Missouri
Western has nearly 1,000 fewer students than it did 10 years ago, even as it
has added faculty and staff.
Wilson defends
the budget cuts, stating the university went from $28 million in the bank in
2015 to just under $12 million in 2019.
"That's $16
½ million that went out the door in four years, yet seems like some are blaming
me for the financial problems."
Wilson says
the decision by the Board of Governors to accept the cuts has been proven correct.
"As we went
through COVID at the end of May, we were up by $1.5 million, even with all the
losses that we have taken, because of our strategy," according to Wilson. "We
have been very strategic in terms of what we're doing and, yeah, we have had to
make some strategic cuts, which is very hurtful to folks, but it's necessary
for the university to go forward and survive."
While
finances dominated the year-long presidency of Wilson, he also pushed for new
initiatives, such as the Griffon Guarantee Scholarship, Gold Fridays, the
Center for Service, and the Center for Workforce Development.
Wilson says
he will remain long enough to make for a smooth transition.
The Board
of Governors will meet again soon to discuss the search process for Missouri
Western's next president.
Wilson came
to Missouri Western after serving two years as president of the University of
Akron. He had previously served as dean of the University of Akron School of
Law, associate dean of the University of Wyoming College of Law and senior
associate dean and general counsel of Temple University Japan.