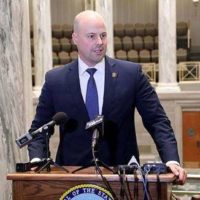 By BRENT MARTIN
St. Joseph Post
State Sen. Tony Luetkemeyer of Parkville is pleased Gov. Mike
Parson has signed his anti-crime measure into law.
Luetkemeyer says Missouri is facing a crime epidemic.
"Kansas City right now is on pace to exceed its all-time
single-year number of homicides. We've seen, even last year, Missouri had three
of the top 12 most dangerous cities in the U.S.," Luetkemeyer tells St. Joseph
Post. "St. Louis was number five. Kansas City number six. Springfield came in
at number 12. And then in 2016, as many of your listeners know, St. Joe
actually saw the 7th largest increase in violent crime of any city
in the country."
Luetkemeyer says one of the main features of Senate Bill 600
would greatly restrict which convicted felons are eligible for probation.
"Over the last 10 years, about 65% of dangerous felons who are
on probation will commit another felony carrying a sentence of 10 years or more,"
according to Luetkemeyer. "And so, what (SB)600 does at its core is it ends the
catch and release practice that allows violent offenders to be out on the
streets and capable of re-offending."
The bill has three main provisions. One would enhance the
crime of Armed Criminal Action, which is attached to charges filed against
anyone using a firearm to commit a felony. Another provision would make it much
tougher for someone committing a serious felony to be placed on probation
rather than sent to prison.
The third main provision makes changes to the state RICO and
conspiracy statutes to give prosecutors additional tools to crack down on gang
violence.
"Because many of the shootings that happen in Kansas City,
many of the violent offenses that happen in Kansas City, are somehow connected
to some broader criminal enterprise, whether that's drug dealer network, whether
that's a gang."
The change is modeled after federal RICO statutes which have
been used successfully against organized crime figures. Luetkemeyer says his
bill updates current state law which prosecutors virtually never used.
"Even though we know, particularly in a lot of urban cores, we
have a lot of issues with drug dealers and gang activity," Luetkemeyer says.
SB 600 passed on the last day of the coronavirus-shortened
legislative session.