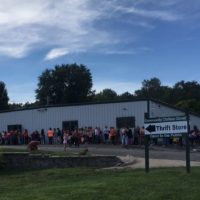 by Sarah Thomack
St. Joseph Post
The Soles for Christ program will still be providing shoes for students in need this year, there will just be different steps taken to ensure public safety.
Marketing and Fund Development Director Nichi Seckinger with AFL-CIO Community Services in St. Joseph says the first-come first-served model in past years meant hundreds of people lined up in and around their building. Due to COVID-19, they are working on a different way of getting the shoes to students.
"We're working on figuring out a way to actually go to the students to give them their shoes and we're attempting to set up visitations, essentially, with each of the schools and we're going to go school to school and get them sized and get their shoes to them that way instead," Seckinger says.
The plan is to distribute shoes once school is in session and families who need shoes should communicate with their school.
Seckinger says they did not want to completely cancel the Soles for Christ program this year.
"Especially with the number of families and adults who are experiencing loss of income or have been laid off from their job or lost their job because of the pandemic," Seckinger says. "So we know that there are some people who are especially affected by this and really can use the help this year."
Soles for Christ provides shoes to preschool through 12th grade students in need in Buchanan County, Andrew County and Doniphan County, Kansas.
Seckinger says since there was uncertainty surrounding how to conduct the program this year the call for donations started a little later than usual. Seckinger reported as of Thursday afternoon, they were approaching 100 donated pairs of shoes and they are hoping to collect at least 1,200 pairs for students in need in the area.
Anyone wanting to donate shoes or funds can drop them off at AFL-CIO at 1203 North 6th Street in St. Joseph. For more information, call (816) 364-1131.