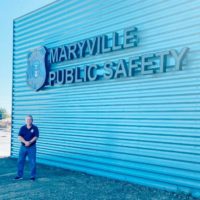 After 43 years of decorated service in public safety, R. Keith Wood announced his retirement effective August 3, 2020.
According to a press release from the City of Maryville, Wood has served as the Maryville Public Safety Director for the last 31 years.
Director Wood joined Maryville Public Safety as Director in 1989. Throughout his career, Wood has earned various honors and professional achievements, including graduating from the FBI National Academy. Under Wood's leadership, Maryville is consistently ranked on annual lists of Missouri's safest cities. Recently, Wood has been instrumental in ensuring a new public safety facility was constructed to serve community and staff for decades to come. Keith plans to continue these volunteer efforts with the Maryville Host Lions Club.
"It's been about the people – staff, citizens, relationship with the community and department – I'll miss the people the most." Wood noted.
According to the city's press release, Public Safety Lieutenant Ron Christian has been named Interim Public Safety Director effective August 4, 2020.
A public retirement reception will be held from 4 p.m. – 6 p.m. on Monday, August 3rd at the Mozingo Event Center.