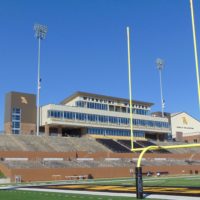 Griffon Football will open the 2020 home schedule on Saturday, November 7 as they host Pittsburg State at Spratt Memorial Stadium with kickoff set for 3 PM. In preparation for game day, listed below are helpful ticketing, parking and other logistical items as fans prepare to attend or tune in to view.
TICKETING & STADIUM CAPACITY
In accordance with local health guidelines, a maximum of approximately 1,800 fans (25% of capacity) will be admitted to view the game inside Spratt Stadium. There will be no public ticket sales available ahead of the game or on game day.
Attendance priority will be given to the following groups:
Missouri Western Gold Coat Club Members with season tickets as part of their package
Two tickets each to immediate family members of Griffon Football student-athletes, Griffon Cheer Squad members, Mystics Dance Team and Golden Griffon Marching Band
Limited ticketing available for MWSU faculty and staff
250 tickets to MWSU students (student ticket lottery details TBA)
Allotment of 200 tickets to visiting fans (coordinated through the Pittsburg State box office)
All tickets will be sent and scanned electronically via new Griffon Athletics ticket partner HomeTown Ticketing.
All stadium seating will be reserved, socially distanced and structured in groups of one, two or four with the exception of season ticket holders who will receive their amount of tickets purchased via their annual package accordingly.
STADIUM ENTRY & PROTOCOL
Spratt Stadium gates will open 90 minutes prior to kickoff (1:30 PM for 3 PM kick) to which fans must maintain proper social distancing. Masks are required upon entry and all throughout the stadium at all times. Additionally, all fans entering the stadium will be screened through thermal temperature check stations with any temperature above the 100.4 threshold not being admitted. No bags or outside food/drink will be permitted.
PARKING & TAILGATING
All Spratt Stadium lots will open two hours prior to kickoff. Lot I & the north end of Lot H (in front of Baker Fitness Center) will be reserved for Gold Coat Club season tickets holders with appropriate pass. All other spaces will be general parking.
In accordance with local guidelines, unfortunately organized tailgating will not be permitted. The Plasma Biological Services Tailgate Zone and student tailgating area will not be open.
RV's will not be permitted into lots for any game this season.
OTHER IMPORTANT GAME DAY INFORMATION
Concession stands will be open on both sides of the stadium
The Bill Snyder Pavilion will be closed to the general public
A representative will be available at the main ticket booth outside the concourse with any ticket questions. There will be no will call or sales to the general public.
HOW TO WATCH & LISTEN
Fans not able to attend the game will be still be able to follow via normal platforms. Listen live on the flagship signal of the Griffon Sports Network, KFEQ 680 AM. "Voice of the Griffons" Dave Riggert begins his 11th season as play-by-play voice and will be joined in the booth for home games by Chris Roush providing color analysis.
Additionally, watch live via the MIAA Network's webstream which may be accessed by visiting themiaanetwork.com/mwsugriffons.
This information will be updated as needed.