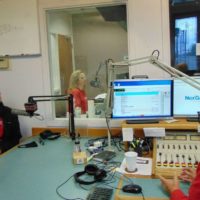 By BRENT MARTIN
St. Joseph Post
An open seat has attracted two candidates with experience to
the Buchanan County Assessor's race.
Democrat Chad Farrow serves as Buchanan County Chief Appraiser
and says the office has lost two veteran employees which it needs to replace,
plus it likely needs to add staff.
"Some of the things that we want to do is grow the office and
we might be able to do that next year with the ability to have a bigger budget
to put somebody else in there," Farrow tells host Barry Birr on the KFEQ
Hotline.
On-site inspections aren't always practical, but remain the
best way to assess a property's value, according to Farrow. Farrow says the
office has worked to make sure residents know who they are and why they are
there during on-site inspections.
"Because we do know that it's scary living out in the county
and someone comes driving up the road and you don't know who they are,"
according to Farrow. "A lot of that has come over the last four or five years.
We want to be more transparent."
Republican Dean Wilson, a state certified appraiser who works
at Fairway Mortgage in St. Joseph, agrees the office does likely need to add staff.
Wilson says the Assessor needs to be good manager, but also remain sharp as an
assessor.
"I think the Assessor still needs to get out and look at properties
himself, not just rely solely on everybody else," Wilson tells Birr on the KFEQ
Hotline. "If it's possible, he needs to get out or she needs to get out and
look at some properties to stay in touch with the market."
Wilson says a residence's sale price is the best guide to its
appraised value.
"The definition of true market value is an informed seller and
an informed buyer; something that they are able to make the choice on on their
own and, again, without any pressure or any reason why they have to sell it,"
Wilson says. "There's no motivated seller in that situation or motivated buyer."
Voters will decide which of the two will succeed Buchanan
County Assessor Scot Van Meter, who is not seeking re-election.