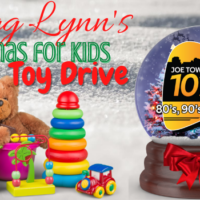 By BRENT MARTIN
St. Joseph Post
A coronavirus pandemic has changed how it operates, but hasn't
derailed Gregg Lynn's 19th Annual Christmas For Kids Toy Drive.
Lynn, an announcer on KESJ, Joe Town 107.5, says due to
COVID-19, there will be no Christmas party for the children this year.
"The kids won't be coming to us and seeing Santa and getting
their gifts," Lynn tells St. Joseph Post. "We're going to deliver them as
contact-less as we can to all 115 or however many kids we have; we'll deliver
them to them at home."
Lynn says the cancellation of the party is the only change.
"Otherwise, it's still business as usual," according to Lynn. "There
are a lot of kids in our area (who are) not going to have Christmas unless
somebody steps up and gets them some gifts and that's what we've done. We'll
take the gifts. We'll get them all wrapped and get them out to the kids."
If you wish to donate, go to the Gregg Lynn Radio Show
Facebook page or on the Joe Town website [click here]. You can buy something
from any list, donate any new, unwrapped toy, or make a cash donation.
Toys and monetary donations will benefit the Noyes Home for
Children, St. Joseph children in foster care, the YWCA, and The Adopt A Family
Christmas Program.
Lynn wraps up the toy drive on Black Friday, broadcasting live
from East Hills Shopping Center.