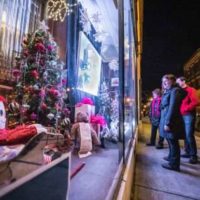 By BRENT MARTIN
St. Joseph Post
Downtown St. Joseph is getting ready for Christmas in a time
of pandemic.
The St. Joseph Downtown Association and Improvement District
has planned Holidays Downtown with coronavirus in mind.
Christy George with the organization says something is planned
for every Saturday prior to Christmas, starting this Saturday.
"We think it's going to be a great time and we've taken a lot
of measures to make sure that the public is safe when they come downtown,"
George tells host Barry Birr of the KFEQ Hotline. "As they do the carriage rides
this year, we'll have staff that are cleaning them in between each carriage ride.
We have the smaller carriages this year so that individual families ride
together."
The lighting ceremony with fireworks begins at 5:30 tomorrow
evening at Felix Street Square. A socially-distanced Santa Claus will make an
appearance on the 5th and 12th with the Winter Princess
featured on the 19th.
Downtown businesses will be offering sales and special hours
during the festivities.
"So, all the businesses are going to have a bunch of specials
and are staying open late," George says. "Parking is easy downtown. It's free
on the weekends. You can start there, stroll around, look at the windows, shop
in the shops. All the shops are doing a really good job of making sure that you
stay protected."
Despite the difficulties imposed by the coronavirus pandemic,
the Downtown Association has plenty planned for this Christmas season.
"There's really a reason to come down every weekend," George
says. "See the Christmas lights, see the fireworks show, see Santa, see the
Winter Princess. Lots to do downtown."
George says downtown businesses will have longer hours and
sales throughout the season. Carriage rides through historic St. Joseph also
will be offered.
Holiday pop-up shops will be available in the concession
building.
For more, click here.