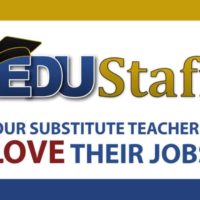 By TOMMY REZAC
St. Joseph Post
The St. Joseph School District has partnered with EDUStaff to supply substitute staffing services for the district, starting January 14.
EDUStaff will manage all aspects of finding substitute teachers, paraprofessionals and secretaries, and will take over the job of filling absences for the district.
EDUStaff will advertise, recruit, train, hire and verify each substitute employee at no cost to the district.
St. Joseph School District Superintendent, Dr. Doug Van Zyl, is hopeful that this partnership will highly beneficial in the long run.
"They had the opportunity to hire a full-time staff member that would do nothing but recruit and try to hire and retain more people to be substitutes for us," Van Zyl said. "So, we're hoping that pays fruits and dividends to us in the end."
EDUStaff will soon begin an intense recruiting effort for employment opportunities that will include virtual job fairs. The typical in-person training program has temporarily shifted online due to the COVID-19 pandemic.
Dr. Van Zyl, says finding substitutes was a challenge, even before the pandemic, and this service will help fill an urgent need.
"Finding substitutes was a challenge before (the pandemic)," Van Zyl said. "Now, it's even more of a challenge, because many of the high-quality subs that we've had and other districts have had were probably retired staff members, so they were probably of the age bracket where there was more concerns, especially early on in the pandemic."
EDUStaff provides comprehensive training and ongoing support for classroom-based employees at no additional cost to the district. This will include virtual job fairs.
Interested applicants who log on to the job fairs will learn about employment requirements, opportunities, the pay rate and they'll have an opportunity to ask questions.
The company's commitment is to increase the number of assignments filled each day with high-quality, well-trained substitute teachers.