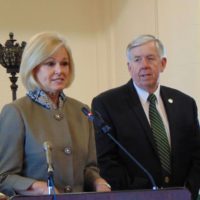 By TOMMY REZAC
St. Joseph Post
Missouri State House Representative Sheila Solon of St. Joseph was appointed as the Acting Director of the Division of Professional Registration by Missouri Governor Mike Parson Friday.
The division provides administrative support to 42 professional licensing boards and commissions responsible for licensing and regulating the activities of about 460,000 Missouri residents.
Solon, who has been term-limited, served eight years as a Missouri State Representative, representing Blue Springs and Lee's Summit constituents (31st district) from 2010-2016, and then the 9th district (Buchanan and Andrew County) in 2018.
Solon has served on several Missouri House of Representatives committees, including Rules-Administrative Oversight and Local Government and Veterans. She also served as Chair of the Children and Families Committee.
Previously, Solon served as Mayor Pro-Tempore of the Blue Springs City Council and Chair of the City of Blue Springs Planning Commission.