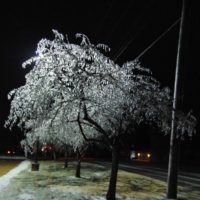 By TOMMY REZAC
St. Joseph Post
St. Joseph residents will be able to take their downed tree limbs and branches from the recent ice storm to the landfill starting Wednesday, January 13, during normal hours of operation, which are 7 a.m. – 4:30 p.m. Monday-Friday and 7 a.m. – 2 p.m. on Saturday.
Tree limbs and branches are the only acceptable material that can be dropped off for disposal. A third gate will be open specifically for this purpose.
Residents with storm debris will not be allowed to use the other gates for drop-off in order to avoid interruption of service for trash haulers and other solid waste customers.
Customers dropping off limbs and branches will be required to pass over the weight scale, as the city will still be responsible for payment to the state for the amount of tonnage collected from the storm debris.
Documentation of St. Joseph residency is required, and no commercial vehicles are allowed.
For Clean Sweep guidelines, residents can visit the city's website at stjoemo.org and search 'Clean Sweep.'
An ice storm in late December knocked out power to over 20,000 St. Joseph residents and downed hundreds of tree branches across the city.
Storm debris will be accepted through March 10.