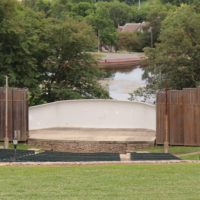 By TOMMY REZAC
St. Joseph Post
St. Joseph City Council has listed Krug Park improvements as its top priority for this year. The question now is, what improvements will be made, and how long it will take.
St. Joseph Parks and Recreation Director Chuck Kempf says about $1 million is already available through federal grants for Krug Park renovation. That money will be put toward basic infrastructure repairs.
"From our department's perspective, we are trying to get basic, fundamental infrastructure restored at Krug Park," Kempf said. "Not only the ampitheater, but also other areas of the park."
Kempf says an underground water line between the ampitheater and St. Joseph Avenue has a significant break in it. Other top priorities include expanding parking and sprucing up the children's circus area.
Overall, this project will be a multi-year effort and will require further action from council. Kempf says the idea is to make Krug Park a more attractive venue while maintaining its natural beauty.
"It's going to be a balance in trying to make sure the entertainment aspect is done in a way that doesn't impact negatively the beauty of the park or even the use of the park," he said."
Kempf says a committee is being formed to further explore funding options and other park improvement ideas.
City councilmember Brian Meyers says Krug Park is perhaps the best facility St. Joseph has to offer for visitors, and its upkeep should be a top priority.
"This is the gem of the city that we have right here," Meyers said of Krug Park. "It is and has been rapidly deteriorating over the last couple of decades. But, if we're able to bring in an ampitheater through different funding mechanisms, we'll be able to save one of the best features of our city."
You can follow Tommy on Twitter @TommyKFEQ and also follow St. Joseph Post @StJosephPost.