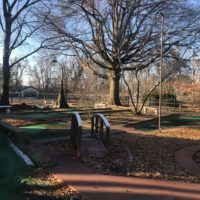 By TOMMY REZAC
St. Joseph Post
Leaves now fill the greens. Traffic goes by on the North Belt Highway without stopping.
Cool Crest Garden Golf has sat idle since October 2017. The property didn't have an owner for at least a couple of years.
Joe Town Mini Golf opened just a couple miles up the road, and Cool Crest sits empty.
That won't be true for much longer.
Joe Town Enterprises, LLC announced the purchase of the Cool Crest property, and its plans to restore the St. Joseph staple to its former glory.
"We're excited to bring it back to its full beauty," co-owner Joe Lane said.
Lane, and his wife Katie, opened Joe Town Mini Golf in spring 2018. Lane's father-in-law, Rick Gilmore, owns Joe Town Enterprises, LLC with his wife, Marcia.
The Gilmores officially purchased the Cool Crest property on January 6. It will eventually be leased to Joe Town Mini Golf.
"I started negotiating with the owner of Cool Crest, (Janeane Saxton), when Joe Town Mini Golf opened," Gilmore said. "We talked several times during that time. Then this summer, it got to where they were close to finishing their estate settlement. I got an offer to her, she accepted it and that's how we got to where we're at today."
Cool Crest, originally owned by Jan and Guy Saxton, first opened in 1948, and entertained people of all ages for over 60 years with its three, 18-hole courses.
Gilmore says Cool Crest will be fully restored to its original state.
Root beers floats and all.
"Root beer floats and cherry mash sundaes…everything they had in the past, we're going to have that again," Gilmore said happily.
All of the original buildings, statues and water hazards are still there. Much of this renovation will focus on replacing the overhead lights and wires, leaf clean-up, painting, tree trimming and everything in between.
"We got to get every one of the greens cleaned," Lane said. "They're a mess. With three, 18-hole courses, that's going to take awhile."
There's a lot to do, but Cool Crest is expected to be open by late April or early May.
"We've got a lot to do here, but we're going to make it happen," Lane added.
Monday marked the first official day of renovation at Cool Crest. A team of landscapers surveyed the course and provided a few estimates. The total price tag for this project is not yet known.
"It's always more than you think it's going to be," Gilmore chuckled.
The news of Cool Crest's comeback was first shared on Joe Town Mini Golf's Facebook page. Word got around quickly. The post had over 4,500 likes, 1,200 comments and 2,100 shares.
"There were no negative responses from anybody," Gilmore said. "Everyone is excited to see it reopen.
"It's always been kind of in the back of our heads," Lane said. "The time was right, so we just made it happen."
Free passes
Gilmore says he's had a lot of inquiries about free golf passes that past Cool Crest patrons still have, and if they can still be used.
Gilmore says hold onto those.
"We're going to pick a time before we open for the season," Gilmore said, "likely the first day of April, and everyone who has one of those passes, if they want to use it, they can come then. After that, we won't honor them any longer."
You can follow Tommy on Twitter @TommyKFEQ and St. Joseph Post @StJosephPost.