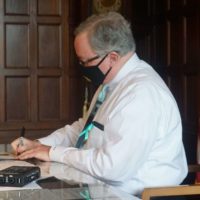 By TOMMY REZAC
St. Joseph Post
St. Joseph mayor Bill McMurray signed a 'Start By Believing Day' proclamation at City Hall Wednesday in an effort to raise awareness for sexual assault.
April is Sexual Assault Awareness Month, and McMurray says that signing this proclamation will hopefully motivate people to reach out and support victims of sexual assault.
"It's designed to improve the responses of friends, family members and community professionals," McMurray said, "so they can help victims get access to supportive resources and engage the criminal justice system."
The Young Women's Christian Association (YWCA) in St. Joseph says only one in five sexual assaults will be reported, while less than three percent of perpetrators will be convicted or incarcerated.
One in two women and one in five men have experienced some form of sexual violence, with assaults happening every 73 seconds on average, according to national statistics.
Karla Hanlan, the YWCA's Sexual Assault Awareness Advocate, says the purpose of the 'Start by Believing Day' proclamation is to have productive and supportive conversations with victims.
"We just need to believe our survivors," she said. "We need to let them know that it's not their fault. We go to Mosaic Life Care and we help sexual assault victims go through their trauma. Just to be with them as an advocate."
Hanlan added that the YWCA also provides housing assistance, free therapy and a 24-hour crisis line to help victims of sexual assault.
She said that COVID-19 had a significant impact on how YWCA helps people, especially with a lack of face-to-face contact. With certain restrictions now being lifted locally, Hanlan says more advocates have been able to go back to Mosaic to help victims of sexual violence.
"Right when (the pandemic) first started, we weren't allowed to go to the hospital," Hanlan pointed out. "I don't think men or women were going to the hospital to get checked out. In the last three months, I've seen an increase of us going back out to the hospital."
Sexual assault awareness, McMurray says, is not limited only to the month of April, but by signing the proclamation Wednesday, he hopes it shows that the city stands with assault victims and is committed to getting them the help that they need.
"The city of St. Joseph shares a critical concern for victims of sexual violence," he asserted, "and a desire to support their needs for justice and healing."
You can follow Tommy on Twitter @TommyKFEQ and St. Joseph Post @StJosephPost.