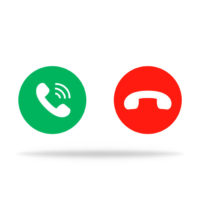 Someone polled over 1,200 Americans and asked what their go-to excuse is when they get a phone call and don't want to answer it. It also looked at the top people we dodge calls from.  And you'd expect family to be #1.  But friends are first, then family, coworkers, our boss, and our significant other. Here are the top five excuses people use after dodging someone's call
1.  "I didn't hear it ring" or "It was on vibrate."  63% said it's their go-to excuse.
2.  "I had a bad signal."  A distant second place with 12% of the vote.
3.  "I was in a meeting," 9%.
4.  "I was driving," 6%.
5.  "I couldn't find my phone," 5%.