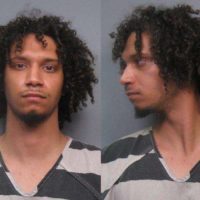 By TOMMY REZAC
St. Joseph Post
A St. Joseph man has pleaded guilty to felony charges of forcible rape and sodomy in Buchanan County Circuit Court Monday.
Twenty-eight-year-old Jerez S. Collins entered the pleas Monday before Judge Daniel Kellogg. The charges stem from offenses that occurred in June 2020 in the back-storage room of the US Oil Gas Station at 22nd & Messanie.
Buchanan County Prosecuting Attorney Ron Holliday said the range of punishment for both offenses includes the possibility of life sentences for both crimes.
Collins also has a prior federal bank robbery conviction stemming from a robbery at the Bank Midwest in Country Club back in November 2010. Collins received 36 months in federal prison as well as other convictions from the State of Arizona.
Sentencing is scheduled for December 2 at 11:30 a.m. Collins remains in jail and is being held without bond.