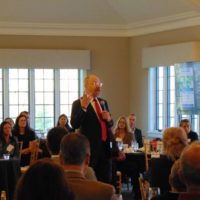 By BRENT MARTIN
St. Joseph Post
A
Congressional observer says a lot has changed in Washington lately, and not for
the better.
U.S.
Chamber of Commerce Vice President for Governmental Affairs, Ron Eidshaug, spoke
at the St. Joseph Chamber of Commerce Chairman's Breakfast at the St. Joseph
Country Club, giving Chamber members an update on Congressional action.
He
tells reporters afterward Congress has become more partisan, even with the
margins between Democrats and Republicans being so thin.
"It
takes two to Tango and it seems that there's an unwillingness on both sides to
reach out to the other side on many of the issues that are out there," Eidshaug
says. "Right now, the Democrats are in control and they haven't shown a lot of
willingness to reach out on many issues."
The
United Sates House of Representatives is as close as it has ever been, with 221
Democrats holding the majority over 213 Republicans. There is one vacancy. The
Senate is evenly split at 50-50 with Democrats holding the tie-breaker in Vice
President Kamala Harris.
Eidshaug
says he has been somewhat surprised Democrats have pressed such a partisan
agenda with little effort to reach out to Republicans.
Still,
Congress has agreed to coronavirus pandemic spending as well as a $1.2 trillion
infrastructure bill that the Chamber supported even though Eidshaug
acknowledges the Chamber didn't support some aspects of the measure.
The
$1.75 trillion Build Back Better plan, dubbed the reconciliation bill, is another
matter. Eidshaug says the Chamber adamantly opposes it, calling it a
progressive's wish list. He says the Chamber fears the legislation will fuel
even more spending than currently in the economy now, by flooding the economy
with even more money than already spent to fight COVID-19 and its aftereffects.
Eidshaug
says Congress should be working on bills dealing with military funding,
transportation, and international competitiveness, among other issues.
"But
those have been sort of pushed to the wayside of a very, very extreme collection
of government spending, new requirements, new taxes on business that are extraordinarily
troubling," according to Eidshaug.
Eidshaug
adds Congress needs to address the national workforce shortage, which he calls
the biggest challenge facing business.
"Whether
you're a small business, whether you're a big business, whatever the region of
the country is, getting workers who are qualified, getting workers to just show
up and get the job done is really, really a pressing concern and something that
we would like to see some more action on," Eidshaug says.
Eidshaug
says Congress also needs to address the debt ceiling, military spending, and
transportation issues.