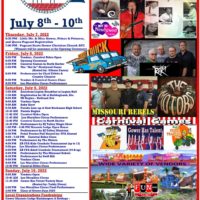 By MATT PIKE
St. Joseph Post
An annual festival in Gower will celebrate and show off what makes small town life special.
The 48th annual Gower Days will be held this weekend at the Gower City Park.
Organizer Chip Holman says what makes Gower so special is simply the people that live there
"The community, the school, the preachers like Randy and Seth at the Gower Baptist Church, it's the people," Holman tells KFEQ Hotline host Barry Birr. "I'm a transplant and Randy's a transplant, when you get there, you're welcome, it's the people."
Fellow organizer Randy Frye says they work hard to bring in local vendors and talent to show off the vibe of the Gower community
"It's really important for us to be advocates for the culture and just the great life that small town Missouri offers," Frye says.
Gower Days will begin on Thursday with the Gower Days Pageant at 7pm at the Gower Christian Church.
The opening ceremonies of the event will be on Friday at 6pm. And this year, something new will be at the festival.
Holman says this year they are welcoming the Los Moralitos Circus performers
"It's a circus, it's the acrobatic side of the circus and also a little humor to it as well, they're going to be doing six performances throughout the weekend starting with the one on Friday night at nine," Holman says. "It's free, that's the great thing, is people can come from all over and watch the circus again, free."
Following the opening performance on Friday there will be three shows on Saturday, and two on Sunday.
The festival will run Friday through Sunday featuring many local vendors and musicians. And on the last day, even more local talent will be shown.
Holman says the Gower Has Talent Variety Show on Sunday will feature many different types of local talent.
"It's going to be a lot of fun, we'll have some kids sign up to do different types of talent acts, whether it be comedy, or musicians, or maybe even magic, you're never sure so we tagged variety show onto that but it should be a lot of fun," Holman explains.
You can find a full schedule of events on the Gower Days Facebook page.