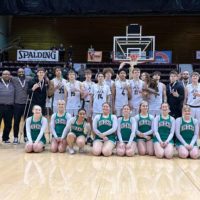 By TOMMY REZAC
St. Joseph Post
SPRINGFIELD – Some might think it's the luck of the Irish.
Lafayette boys' basketball coach Kevin Bristol doesn't. What he saw Friday is what he believe his team could be all season long.
"Today, we got back to the formula that got us here," Bristol said. "It's good to see everyone get back on track. Like I always say, it's who we are."
The Irish (23-8) buried 16 three-pointers, and shot 53.7 percent from the field in a 78-57 takedown of No. 6 Father Tolton Regional Catholic (Columbia) in the Class 4′ boys basketball third place game at the Hammons Student Center in Springfield Friday.
Lafayette had an impressive turnaround after falling 82-57 to Central Park Hills in state semifinals less than 24 hours prior.
Lafayette used a 10-0 run in the first quarter to grab a 21-14 lead through the first eight minutes.
Father Tolton (21-11) managed to tie the game at 26-26 with 3:32 left in the second. But again, Lafayette found a run, this time an 11-2 burst to end the half, and the Irish went up 37-28 at intermission.
Father Tolton gave it one last push midway through the third when senior Izaak Porter knocked down a three to make it a 43-34 contest with 4:45 left in the third.
Lafayette essentially called game after that. Back-to-back threes from senior Camden Bennett and another from senior Quinn Lowe sparked an 11-0 run and the Irish went up 52-34 with 2:26 to go in the third.
Bennett made four threes in the third quarter alone, and he finished his final high school game with 21 points. He was 5-of-6 from beyond the arc.
Friday, though, may have belonged to fellow senior George Galloway, who lit up the scoreboard with four three-pointers in the first half alone.
After another made three in the third quarter, Galloway helped put the game out of reach with three more triples in the final three minutes of the game, putting Lafayette ahead 78-55 with 90 seconds to go.
After his eighth made three of the game, Bristol called timeout to send the subs in, and to give his seniors and starters a big hug.
Galloway finished with a game-high 26 points on a remarkable 8-of-12 shooting effort from long range.
"That's how George looks in practice every day," Bristol said. "And I'm so proud of him. Started beginning of the season, loses his job, but sticks with it, plays with it and when we needed him most, he stepped up all through the playoffs."
Senior Mikey Thomas was also impressive with 12 points, nine assists, four steals and a blocked shot. Senior Connor Zeit and sophomore Antonio Williams finished with seven points each.
After leading by nine at half, Lafayette outscored Father Tolton 41-29 over the final two quarters. The Irish also turned the Trailblazers over 13 times in the victory.
Some might say it's a lucky thing, being the team who's wearing green and bearing the name 'Irish' in a state tournament game on St. Patrick's Day.
But, Bristol will tell you – Friday's game was a conscious choice by his team to send their seven seniors out right, and to end a terrific 2022-23 season on a high note.
"All through the year we talked about – what are you going to say yourself when you're looking at yourself in the mirror?" Bristol said. "Did I give it my all? Or, man I could have done more. I think today, they left it all on the floor and we couldn't ask any more of them."
Kevin Bristol interview
You can follow Tommy on Twitter @TommyKFEQ and St. Joseph Post @StJosephPost.