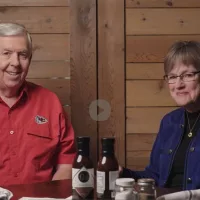 By BRENT MARTIN
St. Joseph Post
Missouri
Governor Mike Parson, a Republican, and Kansas Governor Laura Kelly, a
Democrat, are agreeing to disagree better.
Parson
and Kelly are participating in a National Governor Association initiative to
elevate political discourse. As part of it, Kelly and Parson met at a Kansas
City barbecue restaurant to cut a public service announcement in which Parson
chose Kansas City, Missouri barbecue and Kelly chose Kansas City, Kansas barbecue,
bantering with each other about which is better.
Parson admits
the PSA might be a little cheesy, but he believes in the message: treat people with respect, even when you
disagree with them. Besides, Parson says he and Kelly
have worked together to promote both states' best interests, such as when they
cooperated to lure USDA offices from Washington, D.C. to Kansas City, Missouri.
"And we
worked together then with the governor and figured out a way to, look, this is
a win-win for our region of the state and for her state," Parson tells KFEQ/St.
Joseph Post. "You get things like that accomplished."
Parson
says though he and Kelly disagree on many issues, they can work together and
show respect for each other.
"There's
so much divisiveness in this country, in the political arena especially. I
think there are certain things that we all know from the political range what
we believe in and who we are, but I think it's also important to realize the
things you can agree on," Parson says. "And I think that's what the message of
that was for."
Parson
says he and Kelly will not agree on the Second Amendment, abortion, and other
issues, but can put those aside when working toward the best interest of both
states.
Parson
supports the NGA initiative, insisting that politics needs to return to showing
opponents respect.
"I
think when I look back on it some day, you know of all the things that have
occurred, one of the things I've always tried to do is be respectful of people,
even when I disagreed (with them), even the days as a sheriff," Parson, former
Polk County Sheriff, says. "I think there's a way you handle things. I think we
need to set an example for the next generation how you can work together on
things you agree on and things you don't agree on, you need to go your separate
ways and move on."